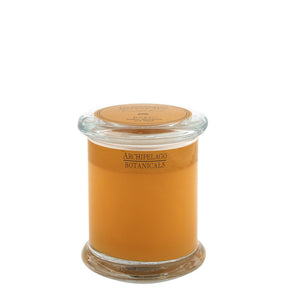 DESCRIPTION
Our classic apothecary jars with lids are the perfect way to enjoy and protect our candles. Each candle is carefully hand crafted using complex blends of essential oils, natural or fine fragrances, and other ingredients sourced from around the world.
Dubai, with its rich notes of Amber, Mandarin, and Musk, is an exceptionally well-rounded home fragrance. An exotic and spa-like fragrance, it makes the perfect backdrop for evening gatherings or a quiet read.
 Hand-poured with our premium wax blend and safe, lead-free wicks.
FEATURES
Net Contents: 8.6 oz. / 244 gm
Approx Burn Time: 60 hours (or more, depending on room conditions)
Key Notes: A blend of Amber, Mandarin, and Musk